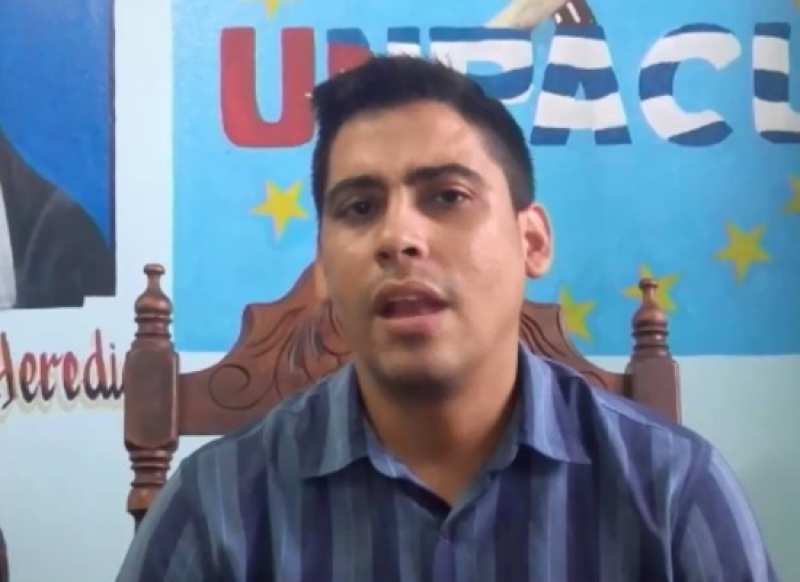 Seven activists of the Patriotic Union of Cuba (UNPACU) have been imprisoned in May, for which the organization brings to 53 the number of political prisoners currently held in prisons throughout the island.
UNPACU spokesman Carlos Amel Oliva Torres told DIARIO DE CUBA that the first cases of last month were the three men who protested on July 26, 2017 in the Cathedral of Santiago de Cuba. They were arrested on April 24 of this year, but finally sanctioned on May 3.
«They were sanctioned for the crime of pre-criminal social danger in the Provincial Court, Father Alberto de la Caridad Ramírez Baró, three years old, and his sons Alberto Antonio and Leonardo Ramírez Odio, two years and six months old. forced labor center known as Los Manguitos, in Santiago de Cuba, «said Oliva Torres.
There are also Ismael Boris Reñí and his wife Aimara Nieto Muñoz. Boris Reñí was in custody since April 28 and was transferred to the Valle Grande prison in Havana last May.
«He is accused of contempt, but in reality he was arrested after a raid to prevent any peaceful protest in the official May Day events in the capital,» recalled the opponent.
Nieto Muñoz, also a Lady in White, was arrested on May 6 and a week ago she was transferred to the Guatao prison. She is currently in the isolation area with other inmates because the prison is overcrowded. There are no capacities in the detachments. She is accused of an attack.
This marriage, with minor children, has already served prison terms: one year between 2016 and 2017 for the offense of public disorder. Since leaving, they have remained active in the peaceful opposition within the organization and also in support of the #TodosMarchamos and CubaDecide campaigns.
For Oliva Torres, this new measure of deprivation of liberty «is part of the revenge of the communist regime because they were, together with Zaqueo Báez, the three activists who protested in 2015 during the visit of Pope Francis to Cuba.»
He also cited the case of Adriel Hernández Reyes, arrested on April 30 to prevent protests during Workers' Day. He is awaiting trial in the provisional prison of Las Tunas «accused of attempted robbery with force».
«It is a peculiar case in which the manipulation can be evidenced, the lack of division of powers,» said Oliva Torres.
He explained that «the boy joined the UNPACU together with his wife, Maité Hernández Guerra, who was also imprisoned a month before him, and they were arrested for putting up signs of refusal to vote on the façade of their home.»
«After being detained for more than 20 days in the criminal investigation unit of Las Tunas, Hernández Reyes was transferred to prison accused of this crime, according to the police, a man who was accused of robbery and imprisoned more than two years ago. years said now that this young man was an accomplice of the robbery with him, «said the opponent.
«The trial of this fact should be held on May 24, but the man who accused the incarcerated man initially did not attend the trial,» he added.
In the opinion of Oliva Torres, it is «a web of lies and manipulations that they (the regime) frequently make».
Finally, he referred to the case of Laudelino Gómez Mendoza, who is in the prison of Aguaderos, in Santiago de Cuba.
«It is pending a judicial process for non-payment of arbitrary fines for attending a meeting, for a peaceful demonstration, our list of political prisoners is currently at 53 people,» he concluded.
Source: http://www.diariodecuba.com/derechos-humanos/1527886928_39746.html