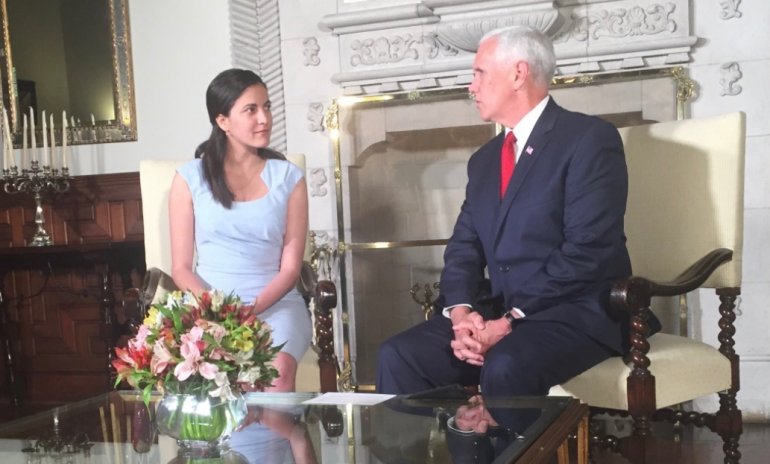 Vice President Mike Pence pledges support to Rosa María Payá and the Cuban People at the Summit of the Americas
LIMA, PERU – On the occasion of the hemispheric summit between nations from across the Americas, United States Vice President Mike Pence held a historic press conference with Cuban opposition leader Rosa María Payá.
"This President and the American people are with you. And we will continue to stand with you and pray for you as you fight for the liberty of the people of Cuba… I'm greatly inspired by your courage and by your leadership that's inspiring people across Cuba, Cubans across America and across the wider world," said Vice President Pence to Ms. Payá at the meeting.
Rosa María Payá spoke with Vice President Pence about the Cuban opposition's call to democratic governments in the region to not recognize the dictatorship's succession government as it has not been elected by the Cuban people, and to support the Cuban People's right to decide their future.
"We need another system. We need a democracy. And we are ready to push for that to happen. The way to do it is a binding plebiscite. The way to do it is a free vote on the island. And I think that your presence, your support, the support of the administration and the support of all the democratic administrations in this region, in the Americas, in this moment, is fundamental not just for ending with that dictatorship and putting the power where the power should be — that is in the hands of the people — but also to end that threat that has been the interference of the Cuban dictatorship in the rest of the region," said Ms. Payá.
Source: https://babalublog.com/2018/04/17/video-of-the-day-press-conference-with-vp-mike-pence-and-cubas-rosa-maria-paya/