Cuba Decide conference featuring VP Marta Lucia Ramirez and other dignitaries.
the Fundacion para la Democracia Panamericana organized the Forum on Cuba Decide, Latin America and the interference of the Castro's regime, together with the Red Latinoamericana de Jovenes por la Democracia (Network of Latin American Youth for Democracy). Guests of honor included Marta Lucia Ramirez, Vice President of the Republic of Colombia, Ambassador Carlos Trujillo, Chair of the Permanent Council and the General Committee Ambassador, Permanent Representative of the United States; Christian Hernandez, who represented the Secretary General of the OAS, Luis Almagro.
Vice President Ramirez acknowledged the members the Youth Network who are working for freedom and a future with democracy in Nicaragua, Venezuela, and Cuba. She also highlighted that Cuba y Venezuela cannot be an unresolved problem, and she further stated "I have called for action so that there are consequences and sanctions against those who are arbitrarily exercising power through dictaroships in these countries, in a corrupt manner. I also emphasize that we must promote and demand coherence by the leaders at a global level in this regard."
Ambassador Trujillo denounced the role the Cuban Regimen continues to play in the repression of the citizens of Cuba and Latin America and the need to continue to fight for freedom and thanked Colombia in their role in supporting the effort.
Cristian Hernandez, representing Secretary General Luis Almagro, spoke about the campaign that the Organization of American States has launched to increase the visibility of the situation in Cuba and the rights violations they commit by silencing dissent. He also noted the appointment of Miguel Diaz Canel as president of Cuba without the consultation of the citizens of Cuba. The Secretary's office has also denounced the illegitimacy of the newly ratified Cuban constitution which enables the communist party to perpetuate and stated that it does not meet any of the requirements of the InterAmerican Democratic Charter. The office further denounced the role that the Cuban regime has played in crimes of humanity in Venezuela and Nicaragua. Cuban state security has been implicated with having a presence in centers of torture in Venezuela and this involvement has been documented and included in the case submitted to the International Criminal Court. All states in the Americas should be alarmed by the role Cuban regimen is playing in Nicaragua and Venezuela and until it is stopped the Americas will not be free nor democratic.
Other speakers included Pastor Alayn Toledano a Cuba Decide promoter from the Island, Carlos Ponce, a Director at the Victims of Communism Memorial Foundation and Idania Chirinos, the Director of Content at Channel NTN24 who gave report and data about the penetration of the Cuban intelligence apparatus in Venezuela.
The intervention of Rosa María Payá can be seen here:
https://youtu.be/RaoMnLupYUY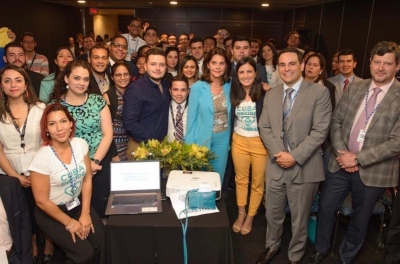 Facebook live conference – Part 1:
https://www.facebook.com/cubadecide/videos/672313476514340/
Facebook live conference – Part 2:
https://www.facebook.com/cubadecide/videos/1196388167189377/