Miami-Dade County on July 22 proclaimed Martyrs Day for Democracy in the Americas to remember Cuban opponents Oswaldo Payá and Harold Cepero and other «fallen» in the fight against communism in Cuba, Nicaragua and Venezuela, two of their representatives announced this Sunday.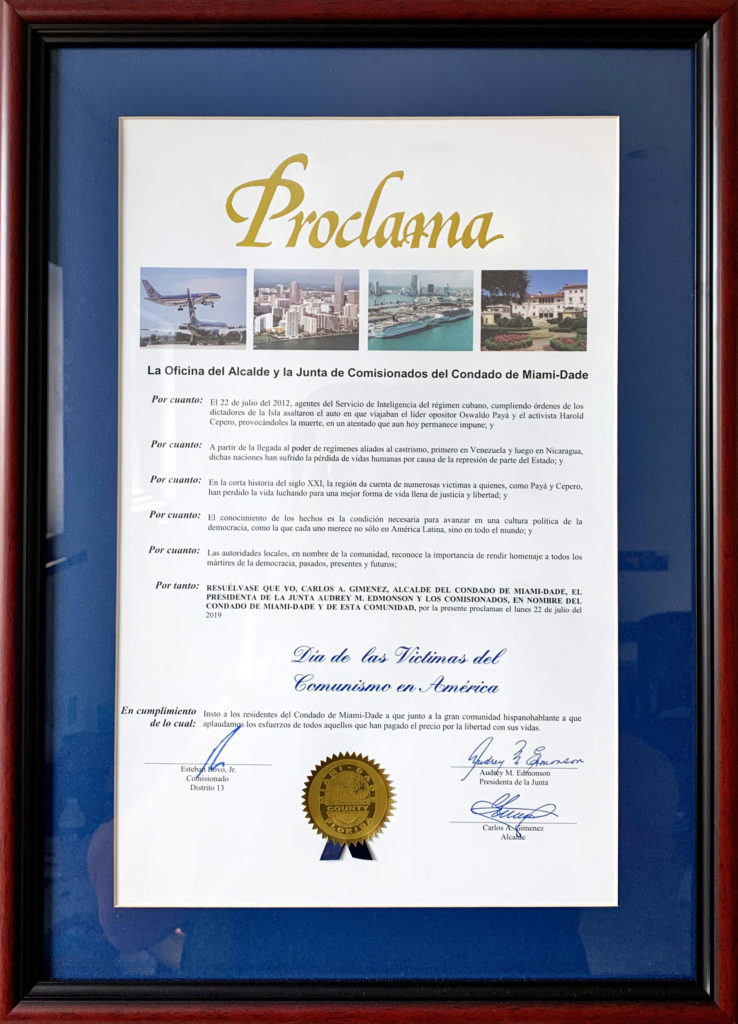 Commissioners (councilors) Esteban Bovo and Daniella Levine presented the proclamation framed at an event held at the Cuban Memorial of Little Havana in Miami, which was attended by relatives of Payá and Cepero and representatives of the communities of Cubans, Venezuelans and Nicaraguans in South Florida
Payá, founder of the Christian Liberation Movement, and Cepero, one of his followers, died on July 22, 2012 in a traffic accident in Bayamo (Cuba) that both families and human rights organizations believe was caused by agents of Castro regime security.
«The fear of the regime to my father's legacy is not taken away from him or after he had been killed,» said Payá's daughter, Rosa María Payá, leader of the Cuba Decide citizen platform, on Sunday, after stating that Cuban security established a fence in the cemetery where his father is buried in Havana to prevent people from paying homage to him.
The event was attended by the leader of Cuban exile Ramón Saúl Sánchez, the president of the Supreme Court in exile of Venezuela, Miguel Ángel Martín, and Nicaraguan activist Alex Arana.
The priest Gil Hernández also spoke, who was a companion in the seminar in Havana in Cepero, whose father, Sabas Cepero, present at the ceremony, had to dry his tears several times.
Ramón Sánchez said that the best way to honor those who give their lives so that their compatriots can get to «decide their future» is by reminding them and stressed that there is no weapon more powerful than who is determined to conquer their freedom.
Miguel Ángel Martín pointed to the map of Cuba that adorns the memorial to say that what happens in his country and in Nicaragua has its origin in the island and that communism is a «thousand-headed monster» that can only be fought together in a «true alliance», something in which the Nicaraguan Alex Arana agreed.
The exiled magistrate mentioned three «martyrs» of 'chavismo': Farmer Franklin Brito died on hunger strike in 2010 for «a piece of land,» and Bassil da Costa, the first student killed in the 2014 protests.
The third mentioned was the naval captain Rafael Acosta Arévalo, who died a few weeks ago victim of torture after being involved in an alleged conspiracy, Martin said.
The event held this Sunday in Miami is part of a conference organized by the Latin American Youth Network for Democracy, Cuba Decide and allies, volunteers and activists, to pay tribute «to all the victims of communism in Latin America» ​​and ask for «justice » for them.
Tributes consisting of floral offerings were held in squares of cities in Cuba, Spain, the United States, Argentina, Chile, Mexico, Panama Honduras, Holland, Bolivia, Dominican Republic, El Salvador and Peru, among other countries.
The 7,730 murdered in Cuba since 1959, the 86 murdered in Bolivia since 2006, the 593 murdered in Nicaragua since 2018 and the more than 6,856 murdered in Venezuela since 1999 were especially remembered, «said the Latin American Youth Network for Democracy in a statement.
On Monday 22nd, when the anniversary of the deaths of Paya and Cepero is commemorated, a mass will be celebrated at the Hermitage of La Caridad, in Miami.
Source: eldiario.es